Shopping in a brick and mortar store has become an old tradition now. Because this is the era of online shopping. With new and modern innovations, buyers now have a variety of options to choose from with significantly lower prices than in a physical store.
But here's a problem, this is where you are virtually examining the products without the idea of their visual appearance. And what if all the competitors claim to be the best, who would you trust then?
This is the problem you must have faced if you have recently been looking for engagement rings or loose diamonds. The two big names James Allen and the Blue Nile are competing and trying their level best to secure the top position.
These two online retailers are by far the best online sources for purchasing diamonds. Both offer great services for customer satisfaction. But the question is, which one is better?
The best way to decide the better of the two is to explore them deeply. This review will answer your questions and make the buying decision much easier for you. So, let's dive in!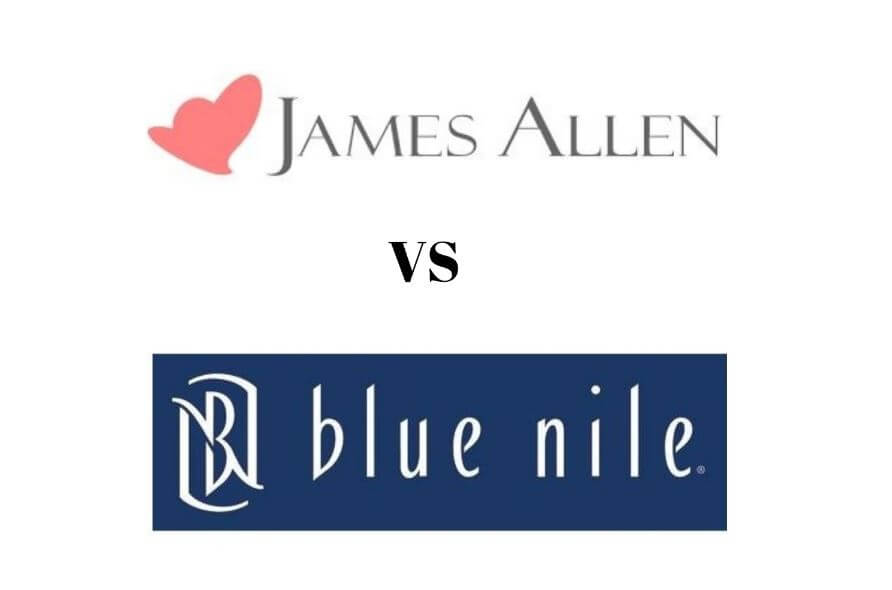 Comparing James Allen And Blue Nile:
James Allen:
When it comes to online diamond sellers, James Allen is really in a league of its own. This company is often cited as being hands down the best online diamond retailer. Their priority is customer satisfaction which is the key driver behind their success. They provide you full control over the designing ring process which makes your buying experience even better. The 360-degree video listings and high quality magnified images have made it the best place to shop for diamonds. Their mission is to deliver the highest quality and largest selection of diamonds at the best price.
Blue Nile:
The Blue Nile is one of the largest online jewelers in the market. With a collection of more than 200,000 loose diamonds, you will definitely find your ideal stone in their massive inventory. And they excellent workmanship and finishing in their engagement rings. They are the most affordable diamond retailers and offer a Price Match guarantee. Such services have made them a retail giant in the online market.
Inventory Comparison:
James Allen:
James Allen boasts a massive inventory of over 200,000 diamonds of every shape, size, and price. Their intuitive website lets you narrow down the search options to what you're looking for. This helps you to easily find your ideal stone from the massive selection.
James Allen enables you to create your own ring by providing you with a wide range of unique ring settings to choose from.
Blue Nile:
The Blue Nile offers the largest scale collection of the world's finest cut diamond. They boast a wide variety of more than 200,000 exceptional diamonds and unique well-crafted engagement rings.
Blue Nile has both pre-set and design your own ring options to meet your desires. They also have other fine jewelry such as pearls and gemstones that you can add in your ring.
Diamond View Comparison: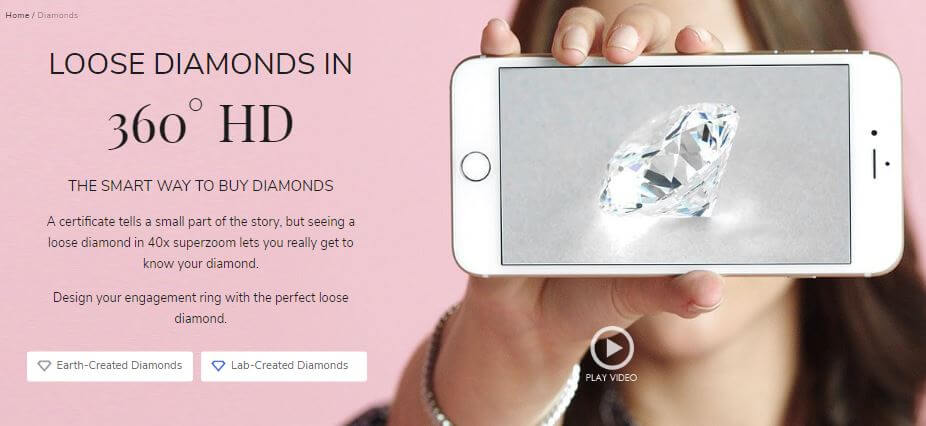 James Allen:
James Allen is the king when it comes to imaging technology in the online world. They provide 360° HD video for every individual diamond they sell. Not only that but the videos also include Super Zoom which means you can check every nook and corner of the ring. This gives you peace of mind before making any final decision.
To take the edge, James Allen also provides free Ideal scope/ASET images of the stone om request.
Every diamond by James Allen is certified by either GIA, AGS or IGI.
Blue Nile:
The biggest drawback of Blue Nile is the lack of quality images/videos for most of the diamonds. They do provide 360° HD videos for some of their diamonds. But still, it will be disappointing if you like a particular stone and don't find the pictures.
All their diamonds come with a GIA grading report.
Price Comparison:
James Allen:
When it comes to price, both James Allen and Blue Nile offer competitive prices that are 25-50% less than in a typical jewelry store.
James Allen offers Diamond Price Match guarantee which means if you find a comparable diamond of the same characteristics elsewhere for less, it will match the price.
Blue Nile:
Even though the two brands stand on fair footing when comparing price, if we had to choose one based on cost, we would go for the Blue Nile. This is because of their affordable prices and a massive pool of options that meets the need of masses.
The Blue Nile is confident of its lowest prices and standby their competitive pricing with a Price Match Guarantee.
Customer Service Comparison:
James Allen:
A great retailer is the one with great customer service. Buyers are attracted to the stores whose services please them.
James Allen understands this and hence put all their efforts to provide the best services for their customers.
They provide 24/7 customer service and chat with an expert to guide you the best.
James Allen offers notable services like free engraving, free band resizing and free shipping worldwide.
To top it off, they ship the ring in stunning packaging.
Blue Nile:
The customer service by Blue Nile is also very dependable. They provide you with round the clock availability with professional staff to help you with your purchase.
The Blue Nile offers step by step guide in designing your own ring process.
To be more consumer-friendly, they provide a complimentary resizing service within the first year of your purchase.
But there are some cons like the Blue Nile charges a fee for ring engraving. If you don't like your purchase, you will have to pay for return shipping.
Final Verdict: (Who is Winner?)
It can be a real struggle to find the best place to buy a diamond ring. With such big names out there, it can be difficult to sort out. But don't worry, you can't go too wrong with either James Allen or the Blue Nile.
James Allen provides you with an extra level of customer support along with a massive selection of natural and lab-grown diamonds. While the Blue Nile is the budget-friendly vendor that offers a good range on a tight budget too.
Both stores are great choices for buying rings or fine jewelry. Each got their strengths and weaknesses. However, James Allen still has a slight edge over the Blue Nile. They revolutionized the online experience with innovative steps. And with a remarkable customer service reputation, James Allen edges out the Blue Nile.
But both retailers are highly reliable. So it is recommended to check out both vendors to see which one fits your own needs better!
More Comparisons: