Remember as a kid when you had to choose one ice cream from the two offered? Always a difficult choice, right?
It gets difficult because you want to choose the best one for you, the one that suits your all needs.
As a grown-up, this would be an even harder choice when you are up for the most important investment of your life, an engagement ring for you.
With options ranging from brick and mortar stores to the thousands of online retailers, choosing one can be the hardest decision.
You really don't want your most important investment to go wrong. So it is wiser to go through these brands first and read about the services they offer.
Every retailer tries it's best to measure up to people's requirements with different services. And in the end, you choose the one that matches your desires.
To help you out with your decision, we are comparing two of the giants of the online diamond retail market.
James Allen
Brilliant Earth
The two companies have a prominent name in the online diamond industry. This comparison review of the brands will answer all your queries about them and help you with your decision.
So, let's get started!

Reputation Comparison James Allen vs Brilliant Earth:
James Allen:
If you have recently been looking for diamonds, you must not be new to this name. James Allen has got tremendous progress in a very short time. All credits to their impeccable service that has made them the leading giant of the industry. Possessing one of the largest inventories in the online market, they make sure you get your desired diamond without any hassle with the easy buying process. They have made a great reputation in the online market.
Brilliant Earth:
When we talk about Brilliant Earth, we are talking about a socially responsible brand that claims to be eco-friendly and ethical. All their diamonds and gemstones are sourced ethically. They urge to support sustainable ways for mining diamonds. And for that, they support organizations and charities too.
Necessary to mention about their admirable approach, they donate 5% of net-profit to social responsibility programs and environmental projects.
Inventory Comparison:
James Allen:
James Allen boasts a massive inventory of 250,000+ diamonds. All these diamonds are just a click away from you. For the budget-conscious, they offer lab-created diamonds. They don't stock all these diamonds, instead, they have deals with vendors worldwide. This is the reason they possess such a massive inventory of all shapes and types.
They offer a wide range of popular ring settings such as vintage and solitaire settings.
James Allen offers an easy ring designing process by which you can create your ring just the way you imagine it.
Brilliant Earth:
Brilliant Earth's inventory is not as wide as James Allen's, but still, they possess a pretty impressive collection.  They offer diamonds of multiple colors, carats, and cuts. They offer one of the largest stores for synthetic diamonds for the ones at reasonable budgets. Every diamond sold by them comes with a certificate that proves its origin.
Brilliant Earth offers its customers a beautiful selection of vintage and antique ring settings to choose from.
Diamond View Comparison: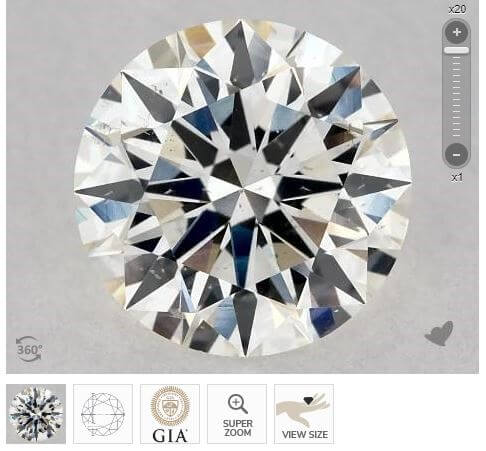 James Allen:
Diamond Imaging is the most important factor when buying a diamond. This is what satisfies customers. And in the terms of Diamond view technology, James Allen is the king of the online market.
The 360° HD video including SuperZoom and high-quality images lets you see the actual diamond before you buy. They even provide Ideal Scope images upon request.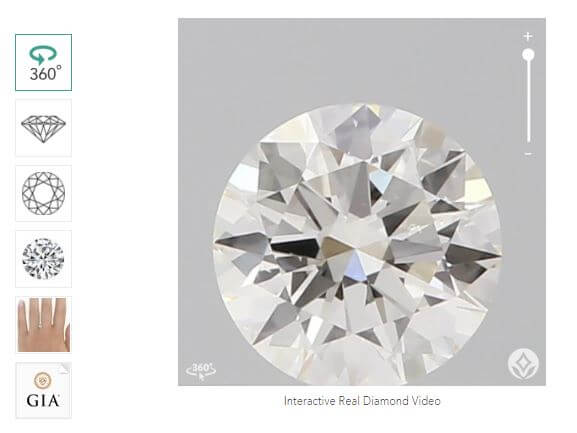 Brilliant Earth:
Unfortunately, Diamond's view of Brilliant Earth is not very impressive. They lack HD videos and images of the diamonds which makes it harder for buyers to imagine the actual diamond. In most cases, you will only find a diagram.
Customer Service:
James Allen:
Any top reputable brand knows how customer service affects the business. If you keep your customers happy, you will build a stronger fan base.
James Allen offers great services like engraving, prong tightening, polishing, and cleaning at absolutely no cost. You'll get one year of free resizing too.
James Allen's packaging is one of that classy unique style that stands out.
The staff at James Allen is always there to help you with their 24/7 availability. They also allow you to chat with diamond experts to help you out.
Brilliant Earth:
Brilliant Earth stands out with its amazing services. They offer free shipping both ways for their customers. Free resizing for 60 days.
Brilliant Earth is known for their lifetime guarantee and upgrades policies.
Brilliant Earth presents your purchase in a beautiful handcrafted wooden box.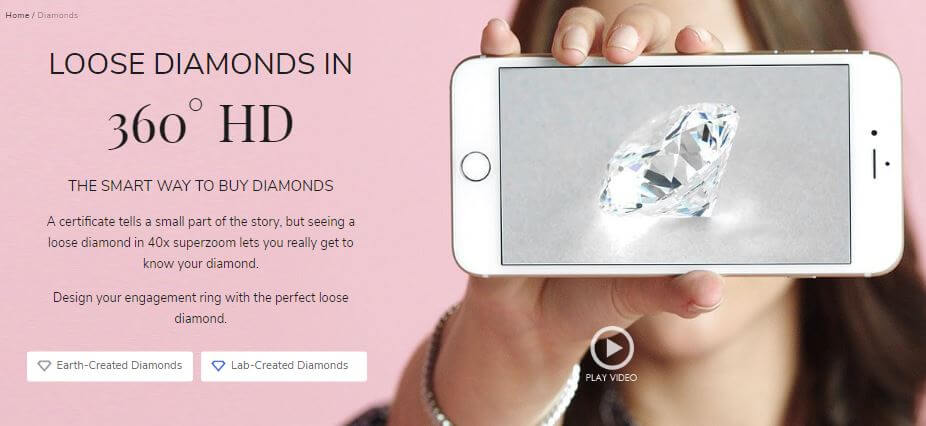 Diamond Price Comparison:
James Allen:
James Allen's affordability is one of the reasons it leads to the online diamond market. James Allen has a better price to value rate than most competitors.
Brilliant Earth:
Brilliant Earth is pricier if compared to other retailers. The diamonds less than 1 carat, if compared to James Allen's diamonds, are more expensive. However, they can be compared for diamonds over 1 carat.
| | |
| --- | --- |
| James Allen | Brilliant Earth |
| Round Shape | Round Shape |
| VVS1 clarity | VVS1 clarity |
| F color | F color |
| Ideal cut | Ideal cut |
| $5,980 | $7,250 |
| Check here | Check here |
Cons of both Brands:
While we have discussed all the positive aspects of both brands, it felt necessary to point out the cons. As a buyer, you should know all about the brands before making any final decision. So we will shed light upon the drawbacks of both retailers.
James Allen:
International return shipping is not free. If you don't like your purchase, pay for the return fee.
The showrooms are only available in New York City.
Takes a lot of time to provide Ideal Scope images.
Brilliant Earth:
Lack of videos and images, as discussed above.
No availability of round the clock service.
More expensive than competitive online retailers.
Not a diverse collection as compared to other vendors.
Final Verdict:
While looking at the overall review, we can say both brands are offering great services for the customers. Whether it is Brilliant Earth or James Allen, both are a trustworthy company with a reputable name in the industry.
But as we have to do a final verdict, the winner of this review is James Allen. When looked at its services, it has an edge over Brilliant Earth. And no wonder they lead the online diamond market because of the tremendous services provided by them.
More Comparisons: