If you are into purchasing a loose diamond, you must know that buying a diamond is not an easy thing. It involves both art and science, and you need to have perfect knowledge about the diamond before you make the purchase. Always buy a diamond that you feel confident about.
If you are looking to find the best diamonds, James Allen and Jared might be able to help you crack a great deal. But most people wonder which one is better. James Allen or Jared? To solve this confusion of yours, we are going to present an in-depth analysis of them and let you decide which one is better for you. Multiple factors determine the quality of a diamond, and you need to take into account various factors before you buy it. 
Comparing James Allen vs Jared
James Allen
James Allen has been around as an online jewelry retailer since 1999 and is reliable when it comes to buying diamonds. The company is based in Maryland and can offer you great shopping experience. James Allen allows shoppers to check out the 360 images of the diamond, which isn't common between other diamond retailers. James Allen also offers a return policy and will enable you to get an A+ rating of the business bureau. 
Jared
The famous jewelry store chain named Jared was founded in 1993 and had been running many commercials which feature catchy jingles. If you are on the lookout for some exciting and variety of diamond designs, you can check their online store. They offer a looping technology for the customers that allow them to analyze the diamond piece and its flaws with the naked eye. This option is pretty unique and different from what other brands are offering.

Quality comparison: James Allen vs Jared
James Allen
The diamonds that James Allen is offering to their customers are of high quality as they boast of GIA certificates.
Jared
Although Jared claims that they are offering good quality diamonds some of the products are subpar and certifications are ordinary as well.
Diamond technology selection
James Allen
James Allen has an online website that is made with the latest technology. It offers an extended search engine where you can find all the diamonds available for sale. Most people want to see the diamond up close before they make the purchase. James Allen allows the shoppers to see a 360 image of the diamond and enables the shoppers to get a clear look at the diamond.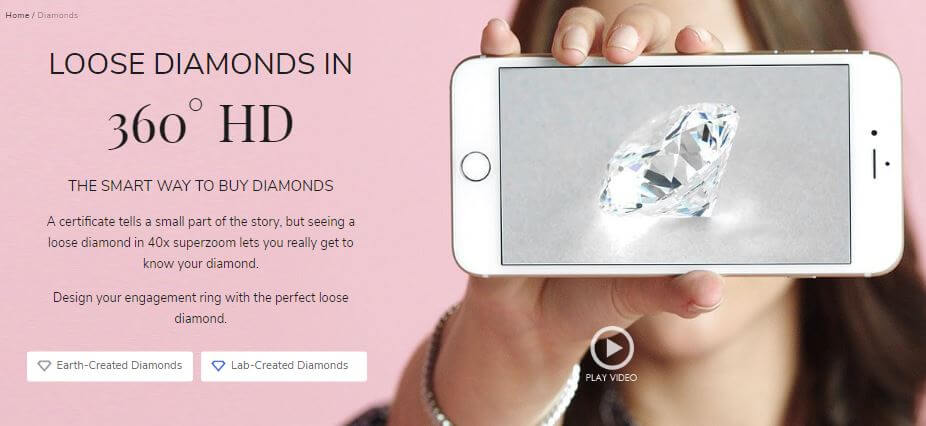 Jared
There are additional options for customers who are looking for high-quality products as they can look for polish symmetry and certifications from the lab too. The website is helpful enough for people to search for different products ranging from price, size, and much more. If you are interested you would love the loop technology which Jared is offering, and you can analyze the piece and check if it fits your requirements or not.
Search Engine Comparison
James Allen
The website offers abundant settings of diamonds, and the picture gallery section has easy to navigate. Diamonds are an expensive item, and with the extensive picture gallery, the buyers can get a clear view of their diamonds and can make a confident purchase. You can choose either the diamond or the setting before because James Allen offers to avail of any of the options. The procedure of putting the two together is simple and easy.
Jared
Customers can easily go to the online store as the website of Jared is pretty much easy to use. The shoppers can choose eye-catching diamond pieces which are made from different stone shapes, carat size, and colors.
Customer service comparison
James Allen
If you don't like the purchase, James Allen allows you to return the diamond in 60 days. The 60-day return and refund policy is a relief to the buyers, and they can feel relaxed about their purchase.
Jared
However, you need not worry as Jared is offering a money-back guarantee offer for customers in case they don't like the product and want to return it. The offer lasts for 30 days only so you have to make a quick decision. There is a variety of 14,524 diamonds available for valued customers, and they can purchase whatever they like. You can get money back guarantee offer, but that is restricted for non-custom jewelry only
Diamond View Comparison
James Allen
James Allen is undoubtedly one of the best places to shop for diamonds. The set of diamonds out for sale by James Allen are selected carefully and are one of the most stunning looking items. People that are new to the diamond purchasing process must note that diamond grading with the stone they are purchasing is an essential factor. GIA is considered to be the top certified company in diamond grading. 
Jared
The diamonds are certified with GIA, IGI, and AGS. Customers can pick from 250 engagement settings. You can get to see the actual pictures before purchasing the diamonds. The diamond-certified letters are attached. The ratings for all diamonds boast of A+ BBB ratings
Price Comparison: Jared vs James Allen
Jared
The price and clarity can be seen on every delicate part as soon as you take a look at it. The disadvantage is that most of the diamond pieces they manufacture come in 1 or 2 karats, so if a customer is looking for more substantial pieces, they have to go for other brands. The prices are also heftier as compared to many other companies offering the purchase of diamonds.
James Allen
The diamonds offered by James Allen are provided at an economical price and you can buy the diamond within your budget. 
Pros and Cons between James Allen and Jared
James Allen
Pros
James Allen offers a lot of discounts and promotions

James Allen also offers numerous coupon codes and you can buy the coupons and get discounts
Cons
James Allen doesn't have any notable disadvantages and buyers can make their purchase confidently
Jared
Pros
Jared happens to have a better reputation and ranking as compared to James Allen

They offer official coupons support for shoppers

Jared also provides a gift card support

You have the option to choose from loyalty programs

They give out one coupon code offer to the customers
Cons
There are no significant cons to discuss for Jared
Conclusion
Jared and James Allen make their customers comfortable and want to give them a good experience so they can come back for a repeat purchase. They are both reliable and trustworthy online retailers but according to our comparison and people's rating James Allen has to be the winner as they are not only economical to fulfill all the requirements of a good online store.
More Comparisons: