Buying at a store with all those bags to carry is old school now. We now live in an era of e-commerce where anything can be bought online. With many competitors arising, buyers now have the opportunity to choose from a variety of options with comparable prices right on their screens.
Within the digital diamond shopping realm, James Allen and Tiffany are the two names of prominent online retailers.
James Allen, one of the most popular destinations for online diamond buyers and boasts one of the largest inventories of GIA Excellent cut diamonds.
While on the other hand, Tiffany is probably more famous and widely recognized than any other jeweler across the globe. As Tiffany carries a prestige which no other retailer comes close to.
When we compare these two, they both stand on different platforms. Each brand offers different services to provide a unique shopping experience for customers.
But then these questions pop up:
-Who is the better of the two?
-Whose services are more complimentary?
-Whom should I go for?
Let's stack up these two on the bases of critical components so you can get clear of your options and choose the best one for you.
Comparing James Allen and Tiffany:
James Allen:
When it comes to customer satisfaction in online diamond selling, James Allen is the name that comes to the mind. Founded in 1998, James Allen has made a solid imprint on the diamond industry with its online success. It boasts one of the huge inventory of loose diamonds and gemstones. In a very short time, they have topped the list of best diamond sellers and established themselves as a leader in diamond e-commerce.
Tiffany:
Tiffany is a well-known name in the luxury jewelry world. It is considered as one of the most famous jewelers across the world. You might have noticed famous wearers on a red carpet flaunting their sparkling stones from Tiffany. Since creating the "Tiffany engagement ring" in 1886, the company has become a household name, known for high quality, top status, and best service.
Shopping Experience Comparison:
James Allen:
James Allen offers excellent customer service throughout the buying process. They empower the buyers for the ring designing process with easy settings and guide throughout. This level up the shopping experience of customers as they can create their preferred type.
Tiffany:
Tiffany does offer a good range of loose diamonds and engagement rings for buyers to choose from. However, custom orders require an in-store consultation. This is not great for online customers who ought to design their own ring. But if you look in their collection, you will definitely find stunning luxury style rings that attract you. Moreover, you don't have to worry about getting an inferior product with Tiffany.
Website Comparison James Allen and Tiffany: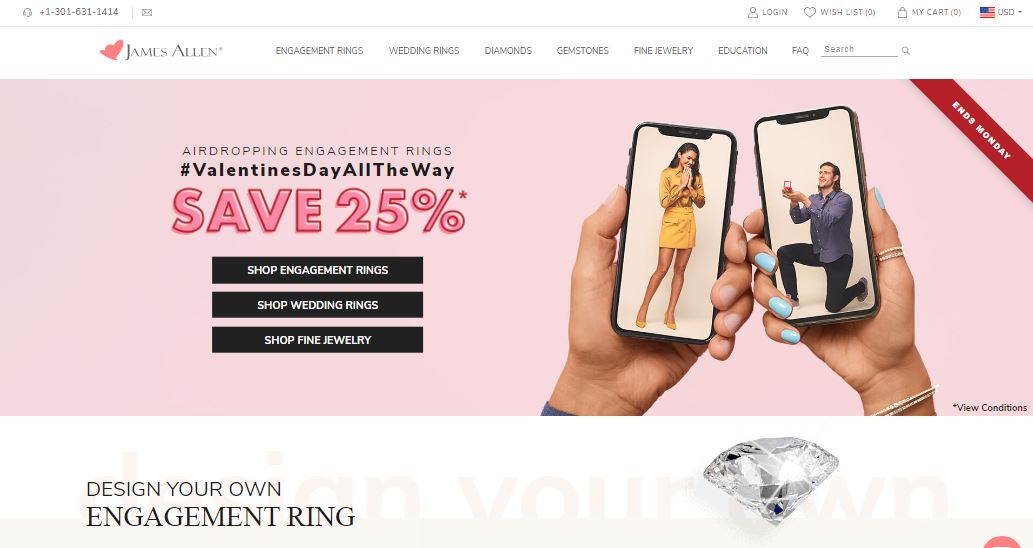 James Allen:
The website of James Allen is bright and welcoming. The amazing features let you go through the variety of ranges with easy to find navigational tools, it gives you an overall smooth user experience.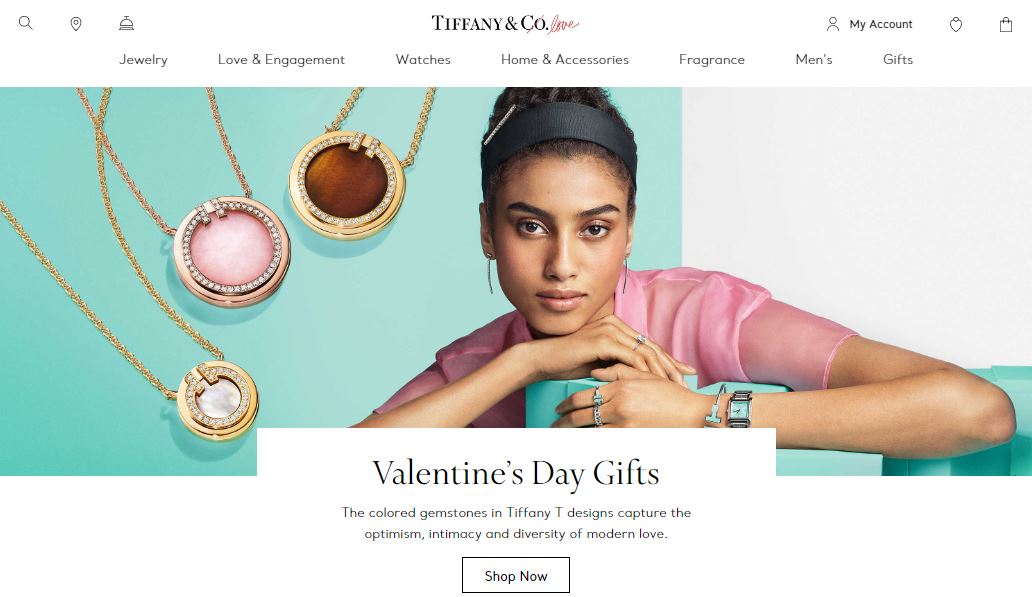 Tiffany:
Their classy and elegant website is easy to navigate and beautifully designed. That helps the customers to easily browse through the different types and styles of jewelry.
Collection Comparison: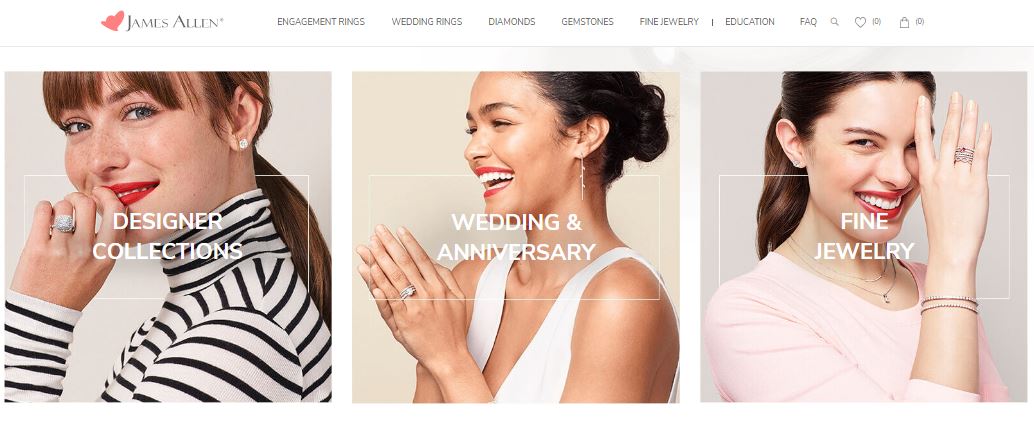 James Allen:
James Allen has everything you need for your ring. They offer a vast selection for gemstones, white gold and a massive inventory of 100,000 loose diamonds of every shape, price, and size. You can opt for either stunning colorless diamonds, or choose a dazzling fancy color diamond from the collection. They have a variety of quality ring styles along with wedding rings and fine jewelry.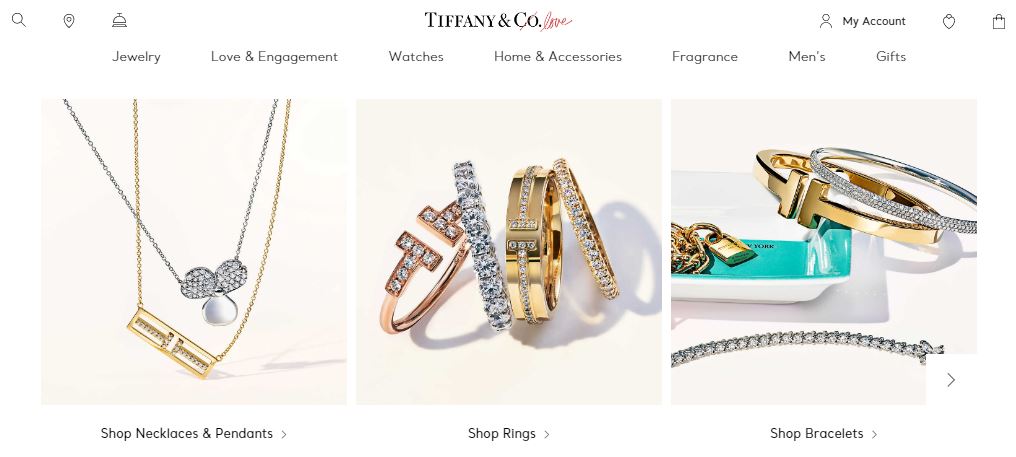 Tiffany:
Tiffany has been synonymous with elegance, exquisite craftsmanship and timeless collections. It offers an array of different diamonds and a beautiful collection of yellow diamonds. But the downside is that they do not offer colored diamonds. That means you can just go for colorless or yellow diamonds.
Apart from diamonds, Tiffany has a robust selection of luxury jewelry, pendants, gifts, and home accessories.
Diamond View Comparison: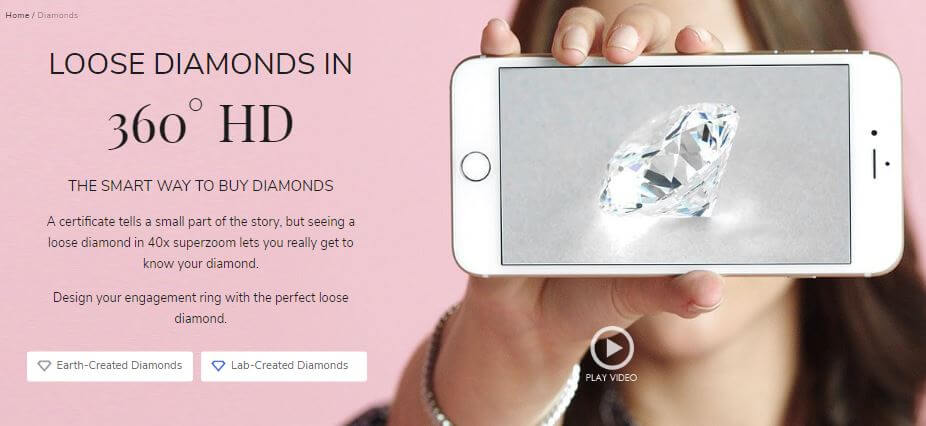 James Allen:
James Allen revolutionized the traditional way of viewing diamonds by coming with a Diamond Display Technology. With this innovative technology, you can examine each stone thoroughly as in a jeweler's loupe. It gives you the ability to see and explore diamonds with complete transparency.
The best feature of James Allen is the 360° HD videos of all the diamonds they sell. This allows you to check the diamond from every angle. Thus, such features set James Allen apart from the competitors.
Tiffany:
At Tiffany, you will be choosing your stone sight-unseen as they do not upload 360° HD videos of the diamonds. Instead, they have just the stock photos of top and side views of most diamonds. But that is not enough for a true visual look of the stones before purchase.
Price Comparison:
James Allen:
James Allen promises to offer better quality diamonds at significantly lower prices than competitors. And they do so. They deliver quality diamonds without the high price tag.
And they also offer diamonds with blemishes. This enables James Allen to provide many budget-friendly diamonds. And the customers will be shown what exactly they are getting before it knocks your door.
Tiffany:
Tiffany is a brand that focuses on quality more than quantity. Their diamonds are eye clean which means you will not see visible blemishes. As Tiffany vow to sell only the most exquisite diamonds.
But when it comes to price, you will be paying a significant part simply for the brand name. You can find similar diamonds for much cheaper.
Customer Service Comparison:
James Allen:
James Allen is always at your service with round the clock availability. Call, chat or email at any time. They offer an expert guide to help you out.
Each diamond by them comes with a grading report issued by GIA, AGS or IGI.
James Allen offers free prong tightening, re-polishing, rhodium plating and cleaning for the lifetime.
Free shipping globally and a lifetime warranty on all purchases.
These customer services have established them as a leader in diamond e-commerce.
Tiffany:
For customer service and inquiries, the company offers phone and email consultations. But there is no 24/7 service like James Allen.
They provide a lifetime warranty on the grade of the diamonds purchased.
Unlike James Allen whose diamonds are certified by different major labs, Tiffany uses an in-house grading division to determine the quality and grade of the diamonds.
The Final Verdict (Winner):
From the above comparison of two well-known retailers of the online diamond world, James Allen takes an edge over Tiffany.
With excellent customer service, great value, and top quality, James Allen has so much to offer for the customers.
They keep coming with innovations for the diamond industry and making the online shopping experience best for a buyer.
Although Tiffany also has a well-earned reputation in the jewelry world. But the price difference and other services make James Allen a superior choice.
James Allen is the winner that consistently stands far above than any other brand in the online diamond world.