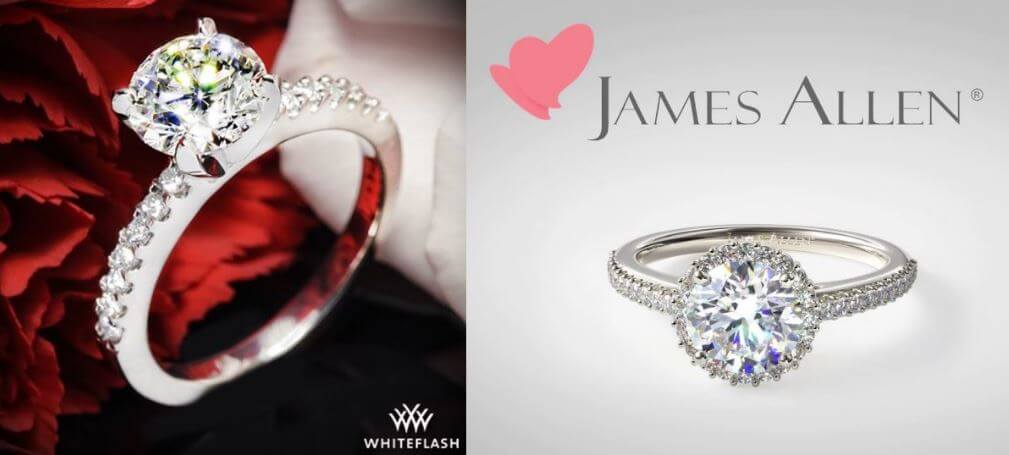 The digital world has evolved so much in recent years, from a daily use product to purchasing diamonds, you can find everything online. Just one click on the website and your order get placed. Next, you know that your parcel reaches your doorstep.
But, just like everything else, buying online has its limitations too.
When dozens of options are thrown your way, it gets a little difficult to sort out the good from the not so great. You can spend hours scrolling through the products, differentiating and comparing them, and still end up being confused about where to buy.
This happens because you can't believe their promises since you're examining the product on the screen only.
It gets harder if you're up for a high investment such as diamonds. Buyers are faced with the dilemma of choosing the best online store for them.
It is better to go through these brands first and understand what they offer. This will help you to reach a point easily.
So in this review, we are comparing two of the giants of the online diamond world, James Allen and Whiteflash. We will shed light on both brands, highlighting their strengths and flaws to help you make the best decision for your purchase.
Comparing Whiteflash and James Allen:
Whiteflash:
Whiteflash is a reputable online jeweler. It is known for its signature A Cut Above round and princess cuts. It has one of the largest inventory of super ideal diamonds. Whiteflash prides itself on serving only the best quality diamonds. Their diamonds have excellent light performance and stunning brilliance. The superior sparkle of their signature cut diamonds makes shopping at Whiteflash absolutely worth it. Moreover, the company has strived consistently to serve customers well over the years.
James Allen:
James Allen is the best online retailer that has set the bar very high for the competition. This player has brought the advance and innovative technology to the online world. Thus, it has made easier for users to access their massive inventory and find their ideal stone. The complimentary service by them adds the sparkle needed to shine the brightest among everyone.
Diamond Selections Comparison:
Whiteflash:
Whiteflash has an in-house inventory which includes, A Cut Above Diamonds, Expert Selection, and Premium Select. It has one of the largest inventories of Super ideal cut diamonds. You can also opt for virtual diamond selection if don't find your ideal stone in their stock. But those diamonds are not eligible for trade-up and have a short refund period of 10 days. They offer both natural and lab-grown diamonds.
James Allen:
James Allen has a huge inventory of 200,000 loose diamonds. You can choose from dozens of options available and combine them with over 500 settings in different materials and styles. They also offer a selection of stunning fancy colored diamonds. All the diamonds by James Allen have certified conflict-free diamonds.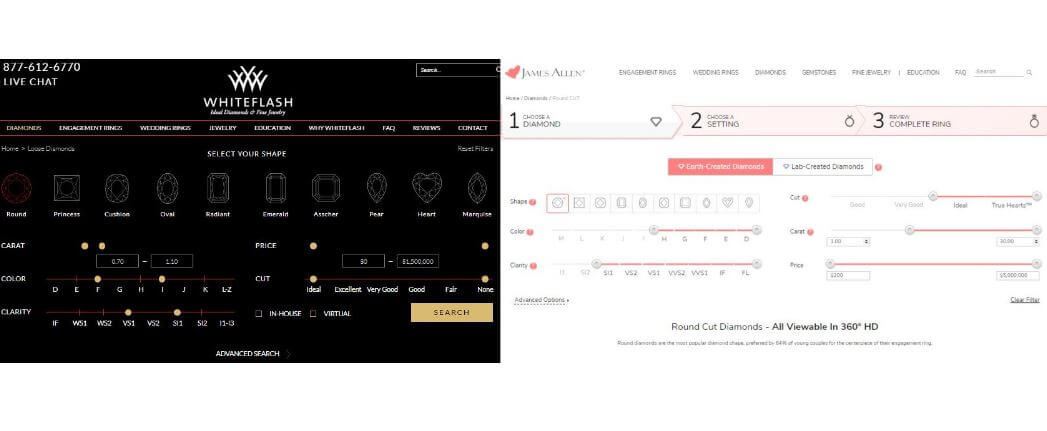 Website and Search Filters Comparison:
Whiteflash:
The neat and chic website of Whiteflash provides ease in your shopping experience. The multiple filters of the website let you access the relevant content of the diamond you're looking for in just a few taps. The Whiteflash keeps the in-house and virtual diamonds in different collections.
James Allen:
The modern-looking website of James Allen is user-friendly with great selection tools and easy navigation. It allows you to filter the results to show you the diamonds that match your search criteria. Their intuitive website makes shopping a fun experience.
Diamond View Comparison:
Whiteflash: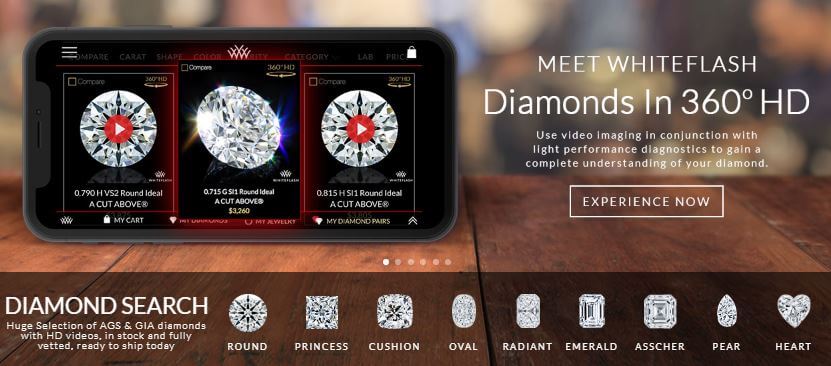 A great online store is the one that offers a great representation of their items. There's no point in housing stunning jewels if they are exhibited by poor imagery.
Whiteflash's selection comes with sample and stock photos that are 2D. However, there is a separate section of items that have 3D video representation. This is for the in-house items and not for the virtual selection, which is a drawback.
Their diamonds come with an AGS and Sarin report.
James Allen: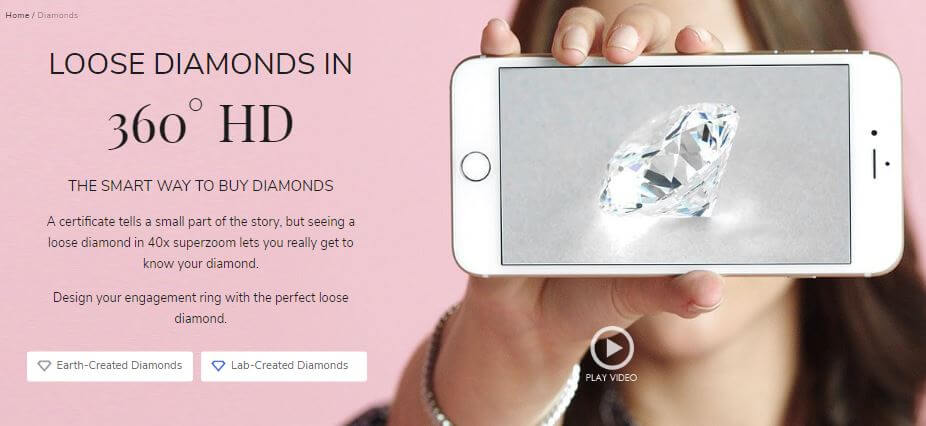 This is the part where James Allen stands above everyone. You can choose a diamond, click on it and enjoy 360 degrees HD video with magnifying up to 20 times. This gives you a clear look at the stone which is what every customer looks for in an online experience. James Allen also provides Idealscope Images of the diamond on request.
The diamonds from James Allen comes with AGS, GIA, and IGI certificate.
Customer Service Comparison:
Whiteflash:
Whiteflash has amazing customer service. Their friendly staff is always available to help you out. They offer 24/7 live chat, free shipping, warranty, lifetime trade-up policies and free ring resizing for one year. While they do offer engraving services but charges separately for that.
If you are not satisfied with your purchase, you can return it within 30 days if the item is from their in-house stock. But if it's from the virtual selection, you got a short refund period of 10 days.
James Allen:
James Allen prioritizes customer satisfaction. They focus on giving you the best experience by providing excellent service. Round the clock availability with the option to live chat with diamond experts.
They offer notable services like lifetime trade-up, free engraving, free band resizing and free shipping worldwide. To top it off, they ship the James Allen engagement rings in stunning packaging to serve you the best.
Diamond Price Comparison:
Whiteflash: 
Whiteflash positions themselves as a premium vendor, with top-notch service, high-quality products with excellent cuts, and lots of analysis on the diamonds they bring in for you. However, all of this obviously comes at a price.
If you're on a tight budget, this might not be the best place for you. But if what you look for is supreme quality with excellent cuts, then you're in the right place!
James Allen:
James Allen is a perfect model for online diamond retailers. The brand has acquired the top place by providing outstanding customer service, top-class craftsmanship, and best services at a fair price.
You get everything you look for in an online store at James Allen.
Final Verdict: (Who Won?)
Whiteflash and James Allen are two close competitors with slight differences. Both offer a wide variety of jewelry for consumers with reasonable customer policies and great features. However, these two companies stand at different platforms according to the ratings and feedback.
Examining the above comparison review, the winner has to be James Allen.
James Allen ticks all the boxes of a great online diamond store. With an extremely user-friendly platform, it stands above the rest. James Allen stays the top pick of everyone for all the right reasons.
More Comparisons: